Men's Volleyball
Sierra Vista's Men's Volleyball continues to serve up wins in this year's 2023 volleyball season. With the leadership of the head coach, Raymond Maika, and the help of the team captains, Rhydon Kuahuia and Phat Nguyen, the team continues to win and paves the way for future players. Dominating the court with 14 wins so far, Sierra Vista High School's Men's Volleyball team made a positive name for themselves.
Head coach, Raymond Maika, takes great pride in coaching Sierra Vista's volleyball program. Coach Maika shares that he enjoys "…being able to mentor these young men through the sport of volleyball and the adrenaline of the competition throughout the season." Before every game and during practice, Coach Maika prepares the team by working on "rotations, offensive and defensive strategies." Coach Maika continues to show his support for the team through encouragement, positive feedback, and competitive efforts in each game.
Returning to the court never fails to excite Sierra Vista's players. Creating a hard-working environment filled with discipline and dedication, Sierra Vista's volleyball players actively work and donate their time practicing every non-game day after school until 4:30 P.M..
A force on the court, team captain, star senior, and varsity outside hitter (#14), Rhydon Kuahuia, shares, "What I love about volleyball is the game itself. Volleyball is one of the hardest and most demanding sports when it comes to physical and mental power. Being on the court with a team feels great no matter the outcome of the game. As captain, some hardships I face are keeping my team emotionally in check. It is a team sport, after all, and if people start to conflict, so will the gameplay."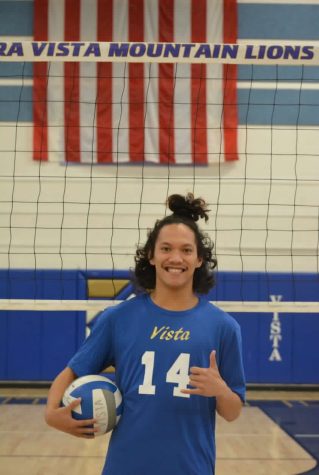 Controlling the match with his hands, star senior and varsity setter (#9) Bronson Peterson rules the second touch on every ball. "Each player and position is like a cog in a machine working together for a common goal, to win." shares Peterson. "No matter the opponent… keep trying and pushing. I like to think that failure doesn't exist, just steps to success."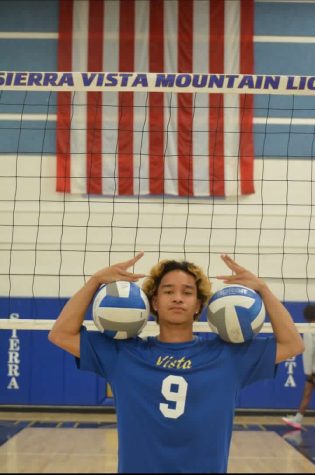 With a team full of hard-working players and being #10 in the state, this season showcased only the best out of Sierra Vista's Men's Volleyball. This year honed each player's skills individually and as a team making Sierra Vista's volleyball team a powerhouse, rising above opponents. With the success and hard work of this season, Sierra Vista's Men's Volleyball team earned a positive name for themselves, making the team a force to be reckoned with. Unfortunately, the boys did not earn a spot in this year's playoffs, but they look forward to returning to the court next year and working harder to win.